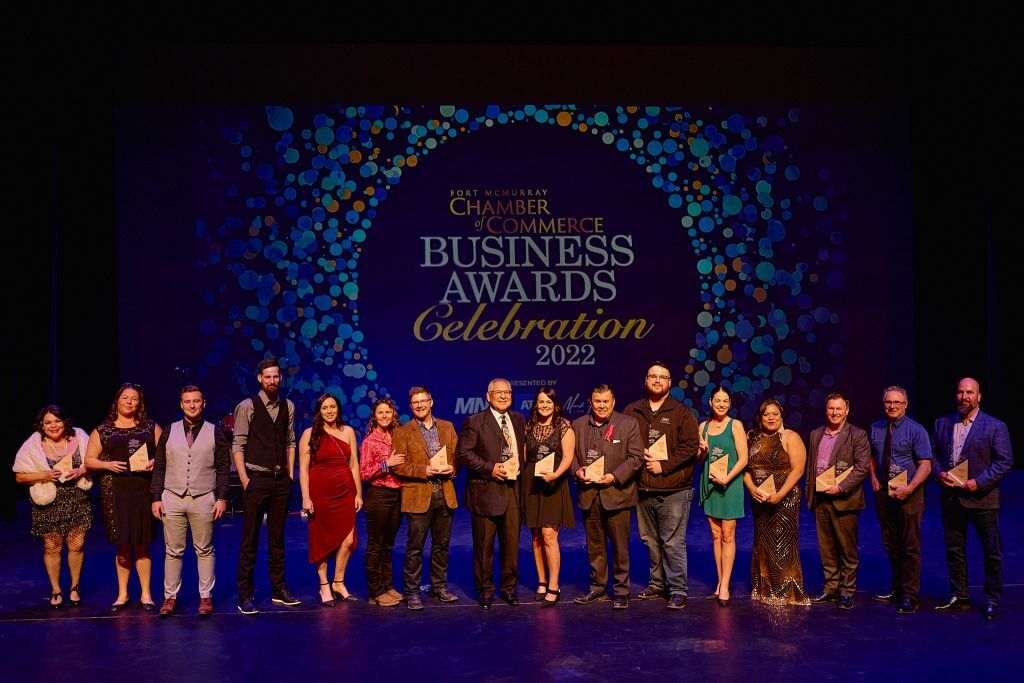 AWARD CATEGORIES & NOMINEE FINALISTS 2022
Large Business of the Year
Excellent Business with over 100 Employees.
Earls

McKay Metis Group

APE Maintenance
Summit GM
     Medium Business of the Year
Excellent Business with over 20 and less than 99 Employees.
Sparksman Transportation
Coverall
Fort McMurray Airport Authority
East Village pub
Small Business of the Year
Excellent Business with less than 20 Employees.
Muscle Mama Fitness
YMM Dance
Kid Drop
Ginger's Bannock House
Exhale Yoga & Barre
Harvard Media  
Female Leadership
Nominee(s) must have demonstrated excellence in their field. In addition, they must be acting in a leadership capacity and have demonstrated leadership qualities in enhancing entrepreneurship for women.
Melanie Antoine
Helen Killorn
Melinda Richter
Ruchi Pachauri / Ami Mavani
Crystal Young
Environment & Sustainability
Nominee(s) must have demonstrated outstanding leadership in economic, social, charitable, or environmental activities. They have shown a dedicated focus on achieving a vision and mandate aligned with ongoing contributions to the environment and/or sustainability
Coverall
Pure Air Solutions
Fort McMurray Airport Authority 
Emerging Entrepreneur
The nominee(s) must have demonstrated bravery by opening their business within the past 5 years. As well, nominees in this category must be sustainable in nature and show growth potential.
55 Pick Up
Kumon
Vino Jelly Gourmet
Kid Drop
Indigenous-Owned Business
The nominee(s) must be a business that is owned and operated by Indigenous individuals or communities. They support Indigenous cultural values and create opportunities for supporting and growing their communities.
Ginger's Bannock House 
McKay Metis Group
APE Maintenance
Amy Keller-Rempp Art 
YMM Dance
Youth-in-Business
The nominee(s) must be an individual under the age of 30. The nominee(s) must have played a direct and primary role in the planning and establishment of the business, and must be currently operating in a leadership capacity.
Muscle Mama Fitness
Red River Company
Adaptation
The nominee(s) must be a business that successfully pivoted in response to the ongoing COVID-19 pandemic or changing business environment in innovative ways that allowed their business to show growth or sustainment during closures and economic or pandemic challenges.
Sparksman Transportation 
Earls
Harvard Media
Lifetime Business Achievement
The nominee(s) must be an individual (or duo if appropriate). This award is to recognize a business leader's contributions over their whole career, rather than a single contribution or time.
Corporate-Social Collaboration
The nominee(s) must be a business that demonstrates a robust corporate-social responsibility program and promotes impact within the community through work with the social-profit organizations and volunteer programs found within Wood Buffalo. The winner will be one that is incredibly collaborative and committed to ensuring a better community.
Birch Mountain Enterprise LLP
Earls
Akron Engineering
  Franchise
The nominee(s) must be a business that is a part of a franchise and operates under a franchise agreement. They have shown a dedicated focus on achieving a community-forward approach to operations and are consistently involved in giving back to the local community and supporting regional initiatives.
Earls
Aloha Mind Math
Kumon
Summit GM
Hospitality and Tourism Business
This award recognizes the active role of the nominee(s) in the development of the local tourism industry, making Fort McMurray-Wood Buffalo a place to visit. The nominee(s) could have a business in the following areas: accommodations, restaurants/cafes, recreational facilities, attractions, etc.
East Village Pub
Christina Lake Lodge
True Health / Infinity Massage
People's Choice
The People's Choice Categories are small business of the year, medium-large business of the year and business leader of the year
YMM DANCE
McKay Metis Group
Melinda Richter
THANK YOU TO OUR AMAZING EVENT SPONSORS!
Food/Appies
Snap a selfie at the photo booth, enjoy your welcome drink and snack
on some appetizers.
---
  
Welcome Drink Sponsor!
Enjoy your welcome drink!
---

Arts Showcase Sponsor
Join your hosts inside Keyano Theatre alongside our house band for the evening. Featuring unique performances by Indigenous drummers, local youth dancers, local artistes and more
About the Nominees
The nominee(s) have enhanced the quality of life for the community, and attracted people to the area. They will have promoted and added vibrancy to the well-being, health, and development of the community. The nominee(s) have demonstrated long-term community engagement, and have taken opportunities to showcase the region through marketing and community events, and/or programs. As well, they have promoted cultural activities, tourism, and/or sporting events.
While nominees in all category will be determined by the Committee based on the predetermined criteria, the winner of the People's Choice category will be determined by public ballot.
About the Award Process
To be eligible as a valid nominee in any category your business must:
Maintain operations in the Wood Buffalo region at the time of awards
Have not won in the category in the past three years
Within the past 3 years:

Contributed significantly and demonstrably to the economic and social well-being of Wood Buffalo
Evidenced sustained financial viability, growth and success

And have derived no more than 30% of annual revenue from any combination of donations, grants and/or subsidies.
All nominations are reviewed & evaluated by an independent judging committee made up of local, qualified members of the business community.
Their mandate is to objectively determine the finalists and ultimately the winner in each category based on the applicable criteria outlined.
In that regard, all nominees will be evaluated as follows:
People & Clients - This criteria explores the business relationship internally with employees and externally with clients
Profit & Growth - This criteria explores the history and future plans for growth
Community Involvement - This criteria relates to the social aspect of business extending to the community
Global Community & Sustainability - This criteria relates to aspects of business that extends to an awareness of business as it relates to the larger global community